However, families are founded on bonds that go beyond genetics alone, and we take you into an in-depth look at the first family of professional wrestling in this piece that unearths the connection between the Samoan wrestlers.
A Background
We all remember the 2015 Royal Rumble, although most of us would rather forget it altogether. Roman Reigns stood tall at the end of the event, and even though he was endorsed by his electrifying 'cousin', he was showered in a chorus of jeers and boos. WWE has always played up the relationship between the two men, especially when the idea was to get Roman Reigns over. Both of these men hail from the Anoa'i family, comprising of as many as four Hall of Famers.
According to WWE, the Anoa'i family is the sports entertainment equivalent of what The Jackson family is to music, having won well over 30 championships between them. This video, posted on the official WWE Youtube Channel, captures some of the accolades of the said family.
It is interesting to note that both The Rock and Roman Reigns have tribal tattoos that celebrate their Samoan heritage. To understand more about their heritage, let's unearth some information about the legendary Anoa'i family.
A sports entertainment dynasty
Some of them are successful footballers; some of them are world champions; some of them are Wrestlemania main eventers too; all of them are absolute legends in sports entertainment. The Anoa'i family comprises legends such as High Chief Peter Maivia, The Wild Samoans, Rocky Johnson, Yokozuna, Meng, Rikishi, Umaga, Rosey, The Rock, The Usos, Roman Reigns and many others, even comprising Jimmy 'Superfly' Snuka and his daughter Tamina, two performers linked to the family by marriage.
Even today, superstars such as Nia Jax and Sean Maluta, who's been a part of the Cruiserweight Classic and NXT, are of the same lineage as these legendary performers. Even Naomi, the current SmackDown Live women's champion, is now related to this iconic family by marriage.
If they hail from the same family, how is it that The Rock is not biologically related to Roman Reigns then? The next section explains this conundrum.
Blood Brothers
Sometimes when two men are not related by blood, but feel a kinship that is stronger than family ties, they perform a ceremony called 'The Blood Oath' and become blood brothers of one another.
This is a practice that is not native to Samoa alone but is carried out all across the world, from Scandinavia to Eastern Europe to South East Asia and even among Native Americans, usually to forge a tie between two tribes.
While there is no way to gauge how the blood brother ceremony we shall describe in the next section took place, these ceremonies are traditionally carried out by making a cut on one's skin and pressing it to a cut on another man's skin thereby having the blood flow from one person to another. In doing so, the blood of two men mixes and they share a bond forged in real blood.
Why The Rock and Roman Reigns not biologically related
Reverend Amituana'i Anoa'i, the father of Afa and Sika a.k.a. The Wild Samoans (Sika is the father of Roman Reigns) declared Peter Maivia as his blood brother and made him a part of the Anoa'i clan, from that day on. The Wild Samoans came to regard Peter Maivia as their uncle and in this way, even though there was no biological relation, the relationship between Peter Maivia and the Anoa'i family was forged in blood from that point on.
Since then, Peter Maivia and his descendants have been considered a part of the Anoa'i family, as can be seen from the family tree that has been showcased below.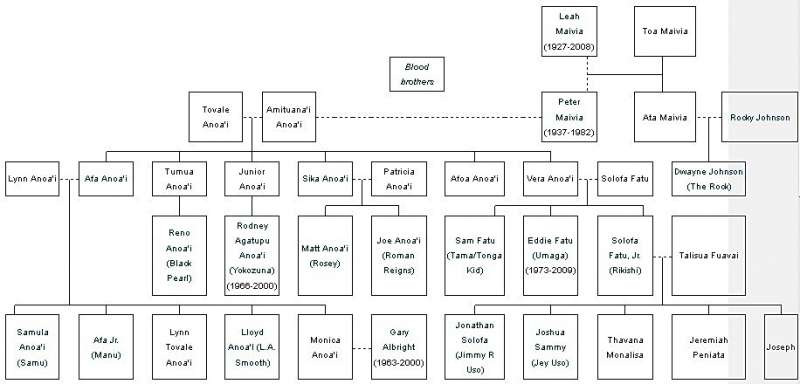 Another interesting point to note here is that Ata Maivia, who is the mother of The Rock, was never biologically related to Peter Maivia. Ata was the daughter of Lia Fuataga, the wife of High Chief Peter Maivia, whom he raised as his own daughter after his marriage.
Ata got married to Rocky Johnson and they became the proud parents of arguably the most successful professional wrestler in the family's storied legacy, Dwayne 'The Rock' Johnson, or simply The Great One.
At the end of the day…
The Rock and Roman Reigns describe each other as cousins, and in Samoan culture, their customs mean far more than biological relationships do. Therefore, let's conclude by saying that both these talented performers are of the same kin. We wish both these amazing superstars all the best for their own journeys and career paths.  sportskeeda